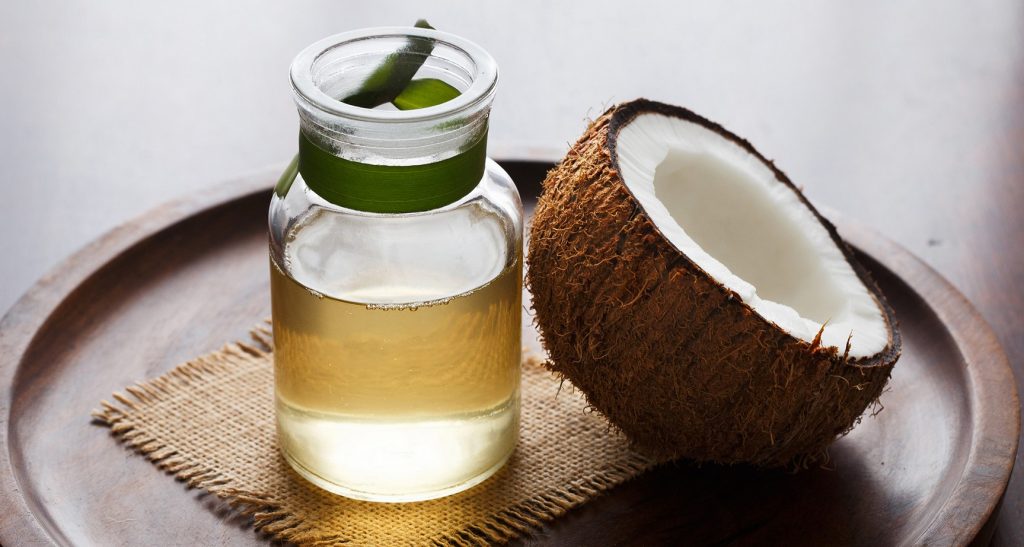 The coconut oil is a pure and vegan vegetable oil. It approximately contains 90% of satured acids from this fruit. These acids are extracted by an easy process in which the pulp is pressed, separating the solid parts from the liquid ones. The coconut oil properties are good for your health when it is consumed but also for your hair and for your face skin, where a coconut oil mask can be used.
If we pay attention to the nutritional value, it has a total of 862 calories per 100 grams. Likewise, in 100 grams of fat, 87 grams are saturated fatty acids, 1.9 grams are polyunsaturated acids and 6 grams are monounsaturated fatty acids. Attention! Saturated fatty acids don't mean they are harmful! Medium-chain triglycerides (MCTs) are found in coconut, theretore it is easier for our body to digest them, and among their benefits we can see these are good source of energy for the body.
The coconut oil is a substance considered an essential oil that we can mainly use for facial skin care. Now I tell you its main uses which will answer the question: What is coconut oil for?
Cosmetic and medicinal benefits for your skin: It offers these properties when coconut face masks are used.  The moisturizing properties, the regulation of oil production, the reduction of acne and the contribution of elasticity and flexibility to the skin stand out.
It strengthens the immune system: One of the benefits of coconut oil is that it strengthens the immune system thus protecting the body against the attack of microorganisms and diseases.
It favors digestion: Coconut oil promotes your digestion and improves your intestinal circulation.
It increases the feeling of satiety: This is due to the amount of fatty acid it contains.
It burns belly fat: Coconut oil is recommended to burn abdominal fat by attacking the fat stored in the belly thanks to its active agents.
It takes care of your hair: Thanks to the many properties of coconut oil, this product is a good alternative to take care of your hair. It can be used as a conditioner. Coconut oil provides minerals, vitamins and proteins that help strengthen the roots. In addition, it can be used to prevent hair loss thanks to its antioxidant agents and natural fatty acids, without forgetting that it is used to eliminate dandruff and to treat irritation, among others.
Uses of coconut oil
Who thought coconut oil could have so many benefits? When discussing it with my colleagues at the office, they have given me some very interesting tips that I'd like to you:
Coconut oil for the skin: coconut oil for the skin can be used all over the body, or in the form of face coconut oil masks.
In case of a face coconut oil mask, we can combine it with:
Honey and lemon, which provides an astringent effect and it also cleans.
Almond oil it helps reducing wrinkles.
If you mix it with turmeric and avocado it can deeply hydrate.
Coconut oil for the hair: we can apply it directly or mix it with the shampoo.
Coconut oil for cooking: we can add it to various recipes since its flavor is delicious, such as soups, curries, vegetarian dishes or desserts. However, you have to be careful with its consumption due to the amount of saturated fats it contains, which can be detrimental to coronary health.
Coconut oil for athletes: one of my colleagues at work is an amateur athlete and he also uses the coconut oil because there are studies that show that the fatty acids in coconut oil promote fat burning and increase energy expenditure. It helps you delay fatigue when running long distances, it protects you  when you go for a run, it can be used as a sunscreen and it is recommended for intensive activities.
Other coworkers have told me that they use one of the balms from Paco Perfumerías store that contains coconut oil for the beard as it strengthens and protects facial hair.
Coconut oil for the face: is coconut oil good for you?
At first, I thought it was just a mask to help straighten my hair, but after seeing the number of uses and benefits I use coconut oil for my skin and face as a cosmetic and medicinal treatment method. These are some of its main benefits:
Hydration of the skin: Coconut oil for facial skin is an excellent moisturizer due to the amount of fatty acids it contains, as well as vitamin E and K and hyaluronic acid. This brings luminosity to the skin.
Fight acne: Another benefit of using a coconut oil face mask is that it can fight acne as well as infections due to its antibacterial, antibiotic and anti-inflammatory properties. Its use is recommended when suffering from acne, as well as eczema and atopic dermatitis, among others. In those cases we highly recommend going to the doctor.
Regulation of fat production: Answering the question "what coconut oil is good for?" it is worth highlighting its action to regulate the production of fat on the face. This is achieved thanks to its properties  by restoring the neutral pH of the skin.
Elasticity and flexibility: Coconut oil provides elasticity and flexibility to the skin of the face by preserving collagen and elastin. With this, it is also possible to prevent premature aging, softening the signs of aging.
It unifies the tone of the skin: Coconut oil is very good for smoothing skin blemishes, as well as reducing dark circles.
Cosmetic purposes: Among the most outstanding cosmetic properties of this product and the way in which coconut oil is used for these purposes, we find its function as a lip balm

. It can also be used  to clean and

remove make-up

from the face since it cleanses it thoroughly, without drying it out and also as a shaving product and as a protector against the sun's rays (before and after sunbathing, since it works as a protective screen and has repairing and soothing properties).
I hope the post has been useful for you as it has been for me to learn all the benefits that we can find in this natural product. But remember: in case of doubts, who can best advice us is always a specialist doctor.
Have a nice day!